Pamela Johnson was born in San Francisco, California. The youngest of five children, she grew up in an inner-city community where, like other inner-city communities throughout the world, drugs and violence were common everyday occurrences and role models often were those who led a life of crime. She believed that the way to a better life was through education, so, having earned an Associate of Arts degree in Liberal Studies, she went on to complete a triple major in Public Relations, Organizational Management and Speech & Communication. Pam received her Bachelor of Arts degrees within a three-year period, becoming the first in her family to graduate from college. She continued forth to obtain a Master of Arts degree in Humanities & Leadership with an emphasis in Organizational Leadership and attended law school in San Francisco.

A turning point in Pamela's life was when she wrote her graduate thesis, How His Life Led To His Work—The Poetry of Tupac Amaru Shakur, which focused on the life, ideas, philosophies and opinions of the slain rap artist. Her thesis took the reader inside the inner-city life: the world that created, nurtured and sustained Tupac and other urban dwellers alike. Pamela asks the reader to discard all preconceived notions of Mr. Shakur as she exhibits, first hand, the "urban world" and how the daily unfolding of urban life can influence the thug's mentality.
Music mogul Suge Knight read Pamela's graduate thesis on the subject of Tupac while he was incarcerated at Mule Creek State penitentiary in Lone, California. He then wrote to her from his prison cell in 2000 and expressed his appreciation for what she had written about the realities of growing up male in the inner-city. He wanted to know how, being a female, she understood, in such depth, the feelings of urban males. He was also pleased with the way she articulated these feelings on paper. Suge would become one of Pamela's biggest supporters and among the first people who noticed her gift of writing before she did.
Suge inspired and encouraged Pamela, as did others who were close to her, to embark upon new and challenging writing endeavors. This motivated her to continue writing and, in time, she discovered there was nothing she enjoyed doing more. At the start of writing her graduate thesis, Pamela had no idea of the effect it would have on her life—that it would lead her to find her true passion and, subsequently, beget her dream of becoming a writer. She credits her thesis for being the spark that lit the flame of this passion and the unwavering support of her friends and family for helping to keep the fire ablaze.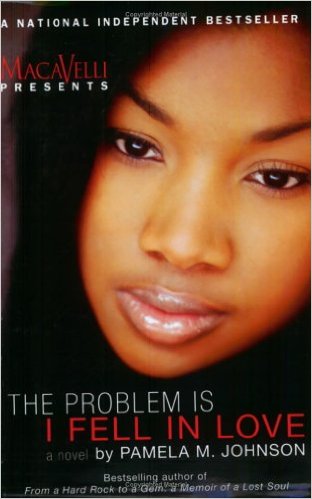 In addition to her several college degrees, Pamela's creative and business accomplishments to date encompass founding her own public relations practice as a solo practitioner focusing on Entertainment PR, as well as writing three novels, The Problem is I Fell In Love, From a Hard Rock To a Gem, and I'll Cry Tomorrow. Pamela is currently working on her fourth novel, Birthwhistle, which is set in the fictional town of Birthwhistle (located 20 miles outside London, England). The novel tells the story of four women in a black British family who carries the town's name as their own last name. Birthwhistle was the surname of their white British forefather, four generations ago. The four women are survivors of sexual assaults imposed upon them, by an uncle, when they were children. The uncle becomes sick in his old age and is murdered in his hospital bed. As his soul waits in limbo–in purgatory–to be judged by God, he seeks atonement for his reprehensible past.
In addition to working on the novel, Pamela has also begun recruiting essays for her two upcoming anthologies. The first of these is entitled, Azar Zanta (which means "short stories" in the Eritrean language). This anthology aims to bring insight and understanding to the current Ethiopian/Eritrean conflict, and to bridge the gap between the two cultures through writing. It consists of passages from Ethiopian and Eritrean writers who tell stories that are dear to their hearts on the subjects of love & romance, family, culture, and various life struggles.
Pamela's second anthology, which has been titled Ghetto Prophet: The Ideas, Philosophies & Opinions of Tupac Shakur, will include essays from writers around the globe interpreting the song lyrics of Tupac Shakur.
Pamela is also in the process of founding her own magazine, Macavelli, which will be a monthly showcase of urban people, art, trends, and ideas. More than a music or hip-hop magazine, Macavelli will take on a fresh, 21st-century view of the urban world, including not only African and African-American perspectives, but Latin, Asian, Middle Eastern and European content as well. To emphasizing this, the cover of the magazine lists the six inhabited continents in ticker format across the top. Pamela hopes that Macavelli Magazine will inspire people to absorb and appreciate the urban lives of our diverse world cultures.
As she is tirelessly ambitious, Pamela does not intend to stop with a magazine and a few novels. She plans on using the profits and publicity from these endeavors to establish her own publishing company, Macavelli Publishing, which, in addition to publishing its flagship magazine Macavelli, will also publish contemporary fiction by African American and Latin authors. The goal is to introduce these writers, who have traditionally been underrepresented in publishing, to the world and to provide them with a publishing venue that appreciates their work. Pamela believes the publishing company will effectively satisfy the demand for these kinds of books as well as fulfill her goal of giving a voice to urban America.
Major influences in Pamela's life as a writer include Tupac Shakur, W.E.B Dubois, Ralph Ellison, Zora Neal Hurston, James Baldwin, and Alice Walker. She is grateful to these writers for lifting the veil off of urban life and the black/urban experience as a whole, giving the listener and reader an unsparing, candid, and often controversial look at the realities of the life of people who reside there—be it in regards to love and romance, or inner-city life and death. Like these writers, Pamela's primary intention with her own writings is to bring readers into the urban world, both in the U.S. and abroad, and introduce them to stories of fiction and non-fiction that permeate these worlds. About her publishing endeavors, Pamela proclaims, "I want to show urban people around the globe that there is more than meets the eye—doing so has become my foremost goal as a writer and the founder of Macavelli." Pamela's predominant objective as a publishing entrepreneur is to tap into new markets created by the rapid shift of America's demography from white, rural to multi-ethnic, and urban. From a position of strength in print media, Pamela intends to aggressively leverage Macavelli Publishing's creative content into film and music.